In part one of this series, we briefly described the conclusions of the AIM-HIGH study and how it impacted the opinion of health care professionals regarding the use of niacin; this time, we are going into the details of the AIM-HIGH study. 
At that time, doctors used this article to say that niacin doesn't work. Even the author of the study noted, "Doctors are going to see the AIM-HIGH study and quit using niacin. However, niacin works. To quit using niacin is a mistake." Guess what happened? People did exactly that; they quit using niacin.
What did the study show that made doctors say niacin doesn't work? The AIM-HIGH trial was designed to look at the treatment of niacin plus a statin compared with a statin alone in patients who had established non-acute cardiovascular disease and guideline-driven intensively control LDL levels.
In other words, these patients were on statins already; they'd been on statins for an average of four years; in that group, they found no incremental benefit.; that's problem number one.
I know there's a lot of statin haters out there; if you're a statin hater, don't give up yet. This is significant for you. Niacin works. We know it increases HDL and decreases LDL and triglycerides.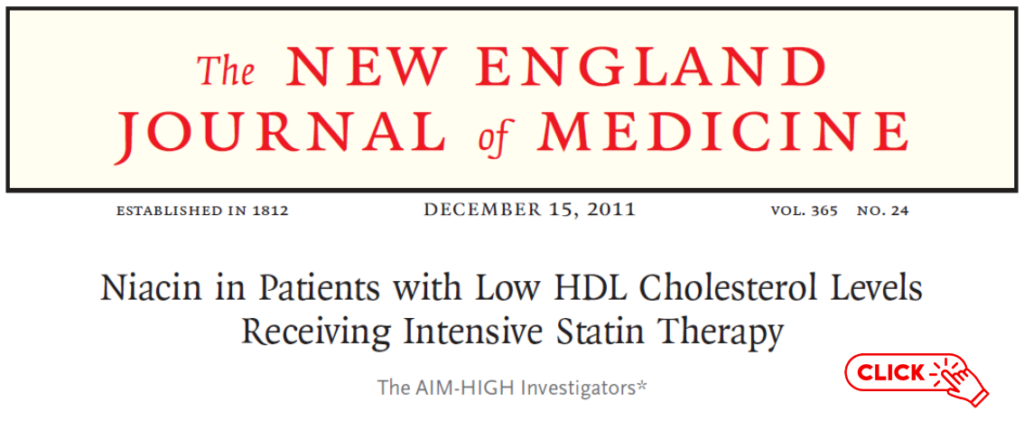 In this study, the researchers didn't see an impact on heart attack, stroke, and cardiovascular events. Another related point is a phenomenon present in the recent studies regarding aspirin; ASCEND, ASPIRE, ASPREE- aspirin studies show much less impact with aspirin for diabetics and older folks. What you're seeing is that aspirin doesn't seem to be helping; that is because we're already managing blood pressure better, we're managing diabetes better, we're decreasing people's overall risk for heart attack and stroke.
That is what happened with the niacin study in 2011- 2012. The AIM-HIGH was a study of people where a lot of control had already been established; if you're a patient that has refused professional prescriptions for statins, think about this. Niacin does work.
Let's say you are taking statins; you may think if I'm taking a statin, does this mean that I shouldn't take niacin? The answer depends. We'll go into the details a bit deeper.
First, let's go back and cover the follow-up period of 36 months after the AIM-HIGH study. If you look at the research on niacin, there are dozens & dozens of studies. They show improvement in cardiovascular outcomes. (strike for ten years); if you look at the research on niacin, there are dozens and dozens of studies; they show improvement in cardiovascular outcomes for about ten years. You saw an improvement of the indicators HDL- LDL -triglycerides at two years, and then over the next 12 months, they wanted to see a change in heart attack and stroke; however, it is too short of a period.
They expected to see huge improvements from niacin; we didn't see them in these well-controlled populations; they had to stop the study early.
The AIM-HIGH study, like many studies, is an acronym. It stands for  Atherothrombosis Intervention in Metabolic Syndrome with low HDL/ high triglycerides. Let's understand what it means; what does it mean when you have low HDL and high triglycerides?
It means you have insulin resistance. If your blood sugar is routinely high, your insulin is high. Insulin stops the burning of fats. Triglycerides go up if your insulin is regularly high, i.e., metabolic syndrome. What happens to your HDL? It goes down. The idea behind this study is that they're taking people with metabolic syndrome- low HDL and high triglycerides. They are taking statins. Does this supplement(niacin) help? That's the real question.
We will explore more on this issue and the involvement of big pharma in the next blog.
REFERENCES:
1.- AIM-HIGH investigators, Niacin in Patients with Low HDL Cholesterol Levels Receiving Intensive Statin Therapy, December 15, 2011 N Engl J Med 2011; 365:2255-2267
2.- https://prevmedhealth.com/cardiovascular-inflammation-and-plaque-formation/
3.- https://prevmedhealth.com/is-saturated-fat-unhealthy-is-it-a-big-fat-surprise-big-fat-lies-or-just-confusion/
4.- https://prevmedhealth.com/more-important-than-ldl-the-triglyceride-hdl-ratio/
5.- https://prevmedhealth.com/does-niacin-work-the-great-niacin-debate/
6.- https://prevmedhealth.com/niacin-doesnt-work-wrong-says-aim-high-study-author-pt-1/